Photo Essay About Leadership
Photo Essay: Inside Efforts to Strengthen Leadership among Women Waste Pickers
By Sonia Dias, Ana Carolina Ogando, and Vanessa Pillay
Women waste pickers face many challenges in pursuing their livelihoods – and their gender identity is among those constraints. For example, they may not be allowed access to high-value recyclables, and they may be less likely to hold positions of authority in membership-based organizations. In addition, their earning power can be limited by the need to balance domestic duties, including raising children and caring for the home.
Over the last couple of years, WIEGO's Organizing and Representation Programme and Urban Policies Programme have been working with waste picker organizations in South Africa and Brazil to identify the unique needs of women working in this sector and how those needs can be addressed. On this International Women's Day, we go behind the scenes with waste pickers from these two countries to explore how they engaged in the process.
The Basadi Buwang (Sesotho for "Women Speak Out") Programme in South Africa
The Basadi Buwang Programme grew out of a request from a Cape Town-based group of women waste pickers associated with the South African Waste Pickers' Association (SAWPA) around the time of its formation. These requests coincided with WIEGO's collaboration in an action-research project on women in waste management led by the International Labour Research and Information Group (ILRIG).
WIEGO and ILRIG agreed to jointly organize an exploratory workshop for women waste pickers in South Africa, in collaboration with SAWPA, to meet the following objectives:
Create a space for women waste pickers from different parts of South Africa to share experiences as women and as waste pickers;
Collectively identify the issues and challenges facing women waste pickers in the home/community, workplace, and organization;
Explore what needs to change, and generate ideas for action for participants and support organizations.
Phase 1: A national workshop for 30 women waste pickers was facilitated by WIEGO and ILRIG to introduce the concept of working with women waste pickers to explore their experiences and to begin to identify strategies to address their challenges from a position of strength. The women expressed the need for political and practical strategies enabled by political and technical support.(May 2015)
Phase 2: The outcome of the national workshop and plans to continue working with the women at a local level was presented to the SAWPA National Conference in July 2015.
Phase 3: Three areas were identified where in-depth listening sessions and capacity building interventions would continue. The three areas were identified on the basis of existing women's activism and organization thus Sasolburg (including Boitshephi Landfill and Vaalpark Recycling Project); Pretoria(Onderstepoort Landfill site where there are existing cooperatives of waste pickers) and Pietermaritzburg(area of ongoing struggle between workers and the local authorities for access to an MRF) were selected. (November 2015 – March 2016)
Phase 4: In the fourth phase a reference group of ILRIG, WIEGO, and representatives from each of the above three sites was formed. The reference group reflected on the outcomes of the listening sessions to develop a programme that would begin to address both Practical and Strategic Gender needs towards empowerment, that has been expressed by the women.
Phase 5: The fifth phase is the implementation of the Basadi Buwang Programme. A capacity building programme for women waste-pickers to address the gender-based challenges and issues that they face at home, in their communities, in their workspaces and their organisations. (Ongoing)
The photos that follow capture key moments and findings in the process.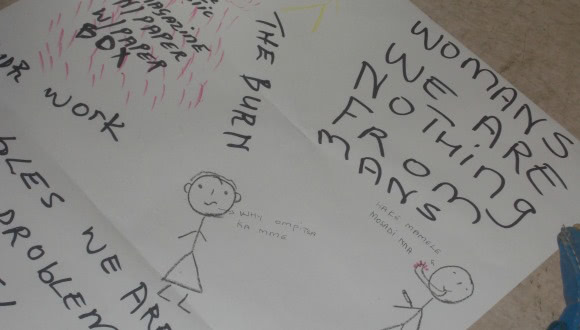 During Listening Session, participants wrote down their issues related to gender on posters. (Photo: WIEGO, Listening Session held in Sasolburg, South Africa, November 2015)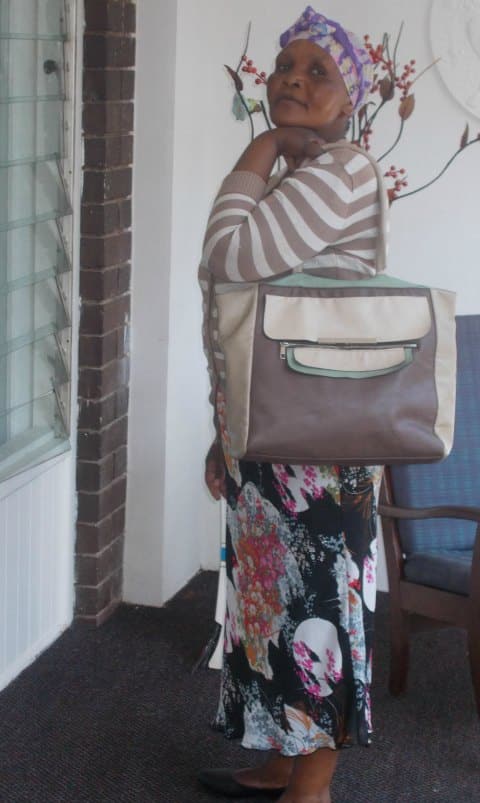 Patricia Kheswa prefers the autonomy of waste picking because it gives her flexibility. However, as "modeled" in the photo, she and many other women working on the New England Landfill not only collect recyclable waste material but also items for personal use. Patricia's full outfit, including the handbag and shoes, are items that were dumped. (Photo: WIEGO, Listening Session held in Pietermaritzburg, South Africa, March 2016)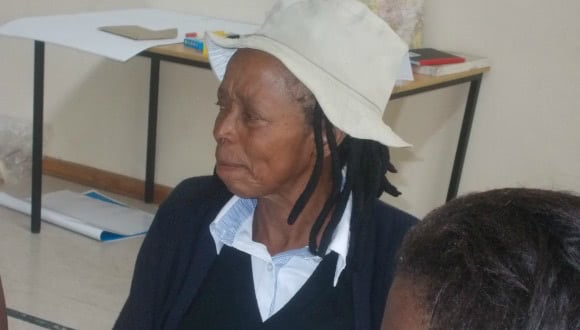 Mamphesane Lebitsa shares her story during the workshop. (Photo: WIEGO, Listening Session held in Sasolburg, South Africa, November 2015)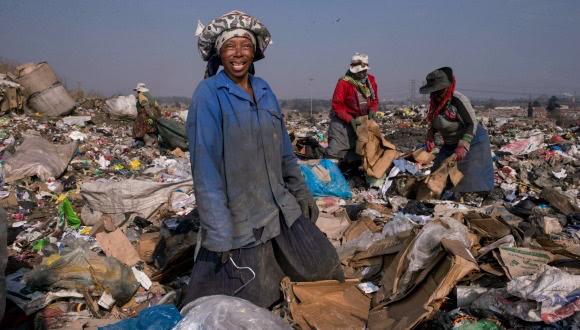 Mamphesane Lebitsa, a proud mother, wants her children to see what her workplace on the Boitshepi Landfill site looks like because, as a waste picker, this is where she earns a living to raise her family. (Photo: Jonathan Torgovnik/Getty Images Reportage, Boitshepi Landfill in Vanderbijlpark, Free State Province, South Africa, August 2015)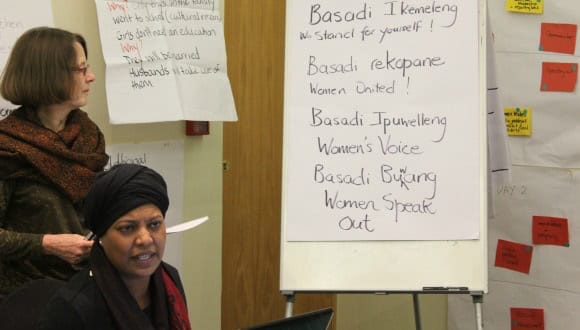 Chris Bonner and Vanessa Pillay lead a discussion on what to call the waste picker programme. They decide on the "Basadi Buwang Programme". (Photo: J. Barret, Reference Group Workshop)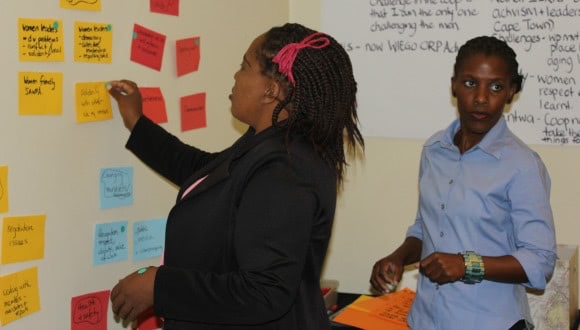 Nonhlanhla Mhlophe and Sindy Gcwabaza prioritize issues for inclusion in Basadi Buwang Programme. (Photo: J. Barret, Reference Group Workshop)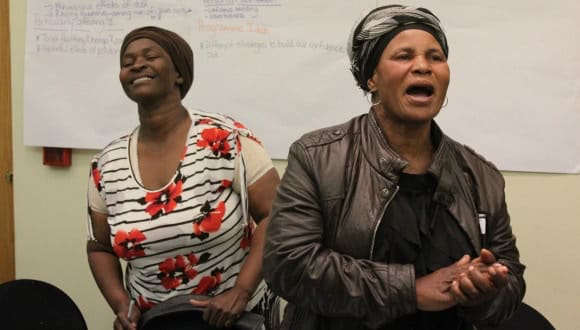 Mantwa Mokoena and Sarah Mohale of SAWPA. (Photo: J. Barret, Reference Group Workshop)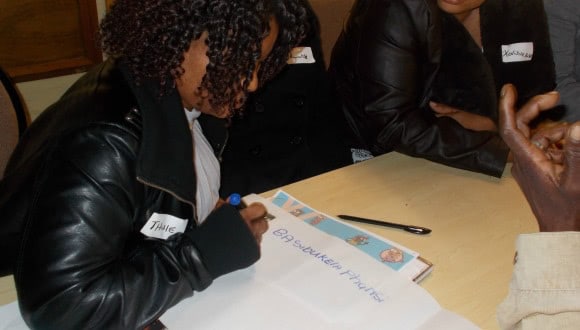 Group Discussion public perception of waste pickers. (Photo: WIEGO, Capacity Building Workshop 1, Pietermaritzburg, South Africa, August 2016)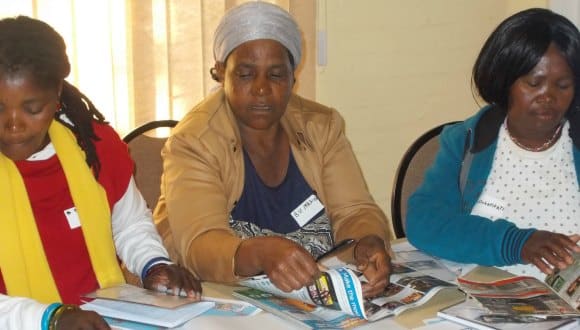 Small group discussion sessions. Photo: WIEGO, Capacity Building Workshop 1, Pietermaritzburg, South Africa, August 2016)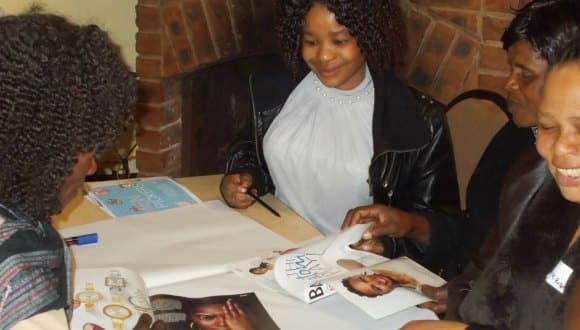 Small group discussions. Photo: WIEGO, Capacity Building Workshop 1, Pietermaritzburg, South Africa, August 2016)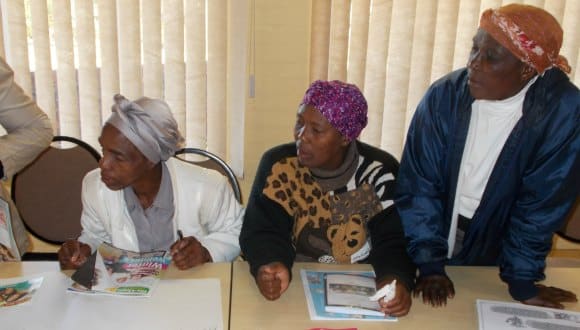 Poster making in groups. Photo: WIEGO, Capacity Building Workshop 1, Pietermaritzburg, South Africa, August 2016)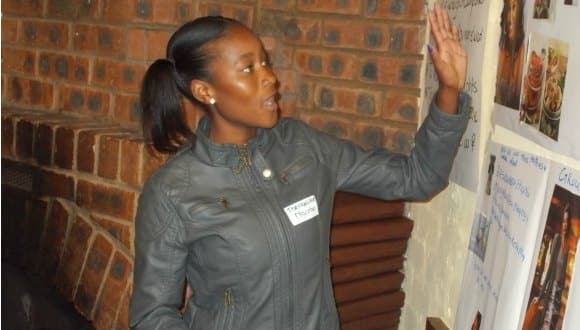 Thembelihle Ngcobo, a young woman waste picker, was introduced to the profession by an older woman in her community who noticed that she had been unemployed for a long time after completing school. (Credit: WIEGO, Capacity Building Workshop 1, Pietermaritzburg, South Africa, August 2016)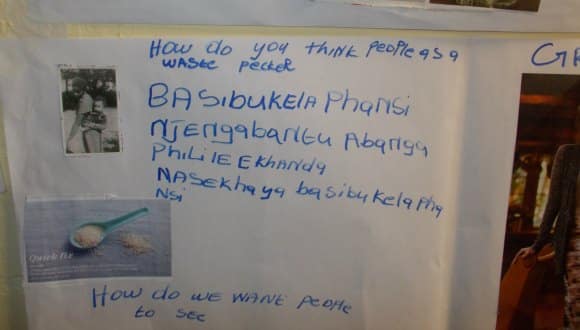 In a group discussion on public perceptions of waste picking and how waste pickers would like to be seen, waste pickers engage in exercises on building self-esteem. The words on the flipchart translate to "people look down on us". (Photo: WIEGO, Capacity Building Workshop 1, Pietermaritzburg, South Africa, August 2016)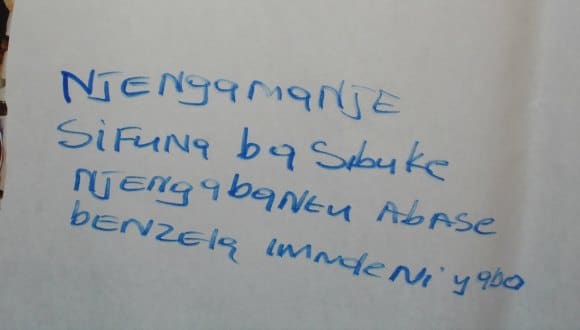 Another group in the discussion on public perceptions wrote, "We want to be recognised as workers, earning a living to raise our children." (Photo: WIEGO, Capacity Building Workshop 1, Pietermaritzburg, South Africa, August 2016)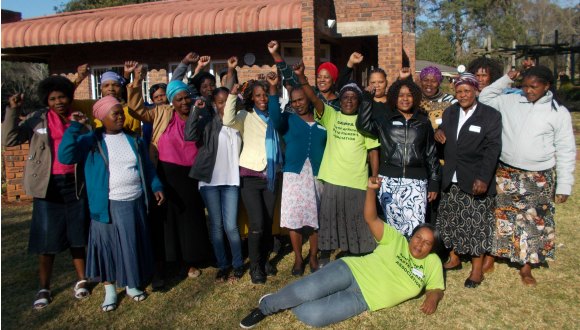 Group photo from the workshop. Photo: WIEGO, Capacity Building Workshop 1, Pietermaritzburg, South Africa, August 2016)
The Gender & Waste Project in Minas Gerais, Brazil
At the same time in Brazil, WIEGO was engaged in a collaborative project involving waste pickers in Latin America which shed light on the multiple levels of discrimination that women waste pickers face and their needs. The Gender & Waste Project – a partnership between WIEGO, the Women's Research Center (NEPEM) at the Federal University of Minas Gerais (UFMG), the NGO Insea, and the national waste picker movement (MNCR) – addresses gender inequality in waste picking activities, extending to the inequality women waste pickers face at home, at work, and as leaders within their representative organizations.
The following pictures represent the different activities and stages of the Gender & Waste Project in Minas Gerais, Brazil.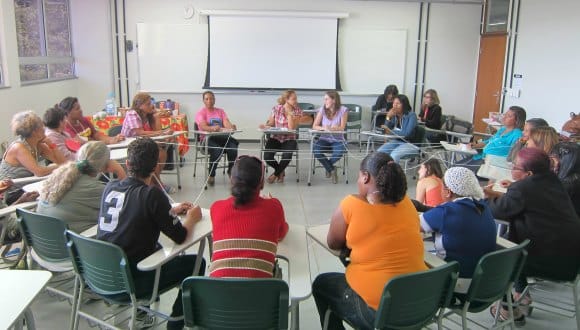 Four regional workshops were held in the state of Minas Gerais with women waste pickers to discuss challenges to gender equality, ranging from issues such as women's economic autonomy, care responsibilities at home, and gender-based violence, to the need for skills training to strengthen their leadership roles. (Photo Credit: Sonia Dias)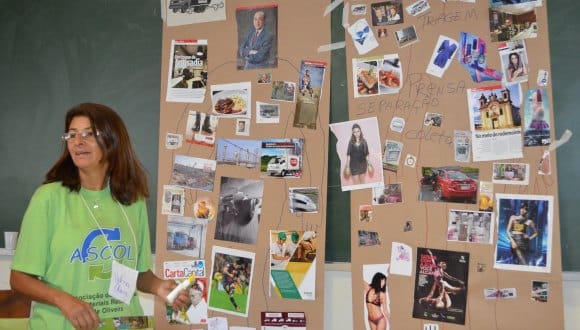 A participant represents her group's reflection on gender roles and what has improved for women in society today and for women as waste pickers. (Photo Credit: Ana Ogando)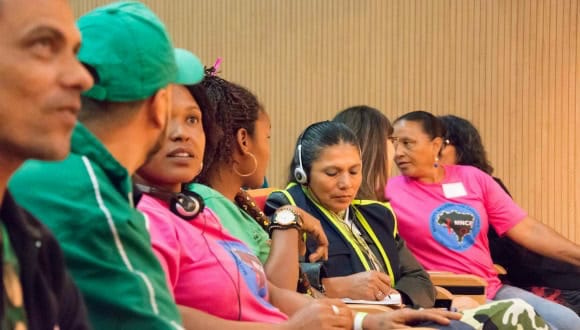 In April 2015, participants from the workshops, along with men and women waste pickers from across Brazil and Latin America, came together to learn first-hand about the impacts of the project. (Photo Credit: Lina Mintz)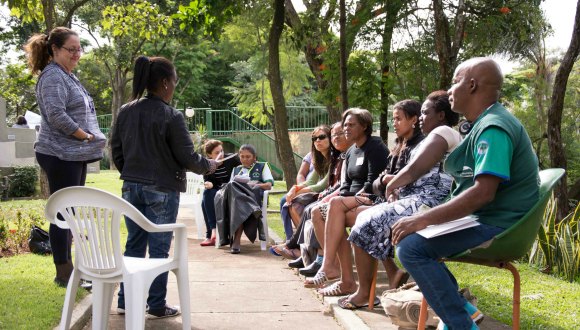 During the April event, smaller groups drafted strategies for improving gender relations in cooperatives and disseminating more gender-just practices within the waste pickers' movement. (Photo Credit: Lina Mintz)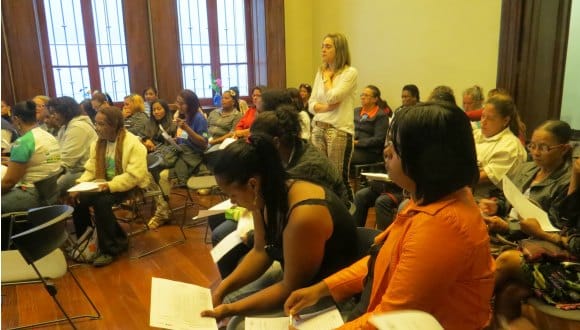 Based on the learnings from the regional workshops and women's interests in improving their communication and leadership skills, a workshop led in a partnership with the Belo Horizonte chapter of the International Coaching Federation (ICF) was held in May 2015. (Photo Credit: Sonia Dias)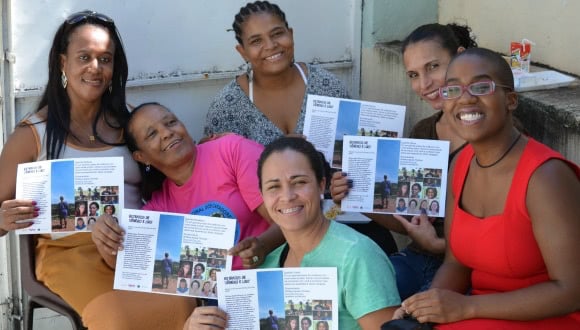 During 2016, Brittany Thomas, an undergraduate student, visited Minas Gerais and documented the Gender & Waste Project as a volunteer. She held a portrait exhibit with women waste pickers who participated in the project, and developed a short video on how the project was relevant for women and men waste pickers. (Photo Credit: Ana Ogando)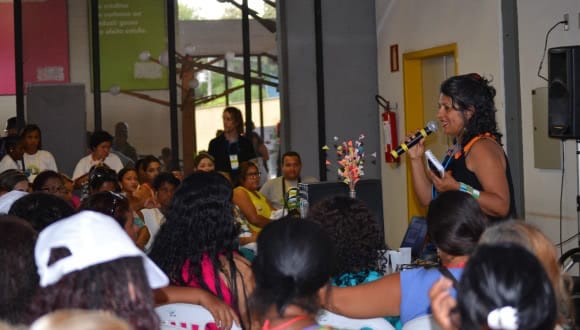 In December 2016, at the request of women waste picker leaders of the MNCR, WIEGO helped organize two panels on gender at Expocatadores, an international gathering that brought together waste pickers in Belo Horizonte. Sonia Dias opens the first panel by highlighting the role women waste pickers have played in founding the cooperative movement of waste pickers in Brazil. (Photo Credit: Ana Ogando)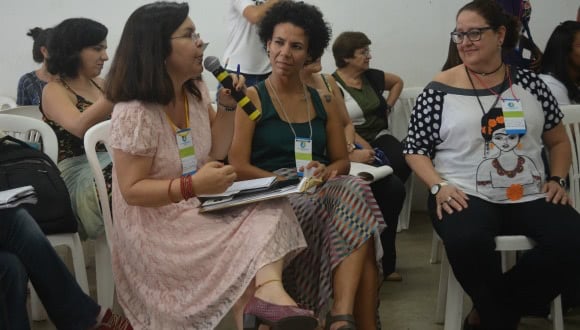 Panelists at Expocatadores discuss the different ways women waste pickers can participate in politics and learn about their rights. (Photo Credit: Ana Ogando)
See the recently launched Gender and Waste Toolkit.
Top photo: Reference Group Members prioritising issues that came out of the phase 2 listening sessions for inclusion in the Basadi Buwang Programme. Photo: WIEGO.
Introduction
The purpose of this photo essay was to develop an ethnographic understanding of soccer in Ireland. Over the past 5 weeks, Eileen and I took on the role of observers and explored what UCD's soccer team had to offer us. A big highlight working with this team was the opportunity to follow along their journey through the Europa League; experiencing their triumphs and disappointments in the process. This photo essay discusses team composition, the role of leadership in building team cohesion and the influence of Irish culture in sport.
Data Collection and Analysis
When we arrived in Ireland, UCD was a week out from competing in the Europa League; a significant period for the club. As a result, engaging and building rapport with the players and coaches was a challenge as the team was purely focused on preparing themselves for their first qualifying round. For that reason, we chose to approach our research as observers. Observations took place during practices and local matches, with field notes and informal interviews as our primary tools for data collection. Throughout our 5 week observation, we were only able to conduct two informal interviews – one with Pat Devlin, UCD's Director of Soccer; the other with Eoin Clarke, UCD's Strength and Conditioning Coach. Despite being brief, these interviews shed light on team management and relationships as well as practice agendas. At matches, we focused on determining "critical moments" – situations that were more than meets the eye and required interpretation – amongst the members of UCD soccer team. Finally, due to our limited data collection resources, I often found myself resorting to the internet in order to gain further insight and a deeper understanding of the club's history, players, coaching staff and their opponents.
In terms of data analysis, the information obtained from our field work, informal interviews and internet resources were triangulated to create a clearer picture of a given situation. Upon obtaining a solid observation, I reflected back on the literature discussed in class and my prior knowledge in search of plausible evidence that would explain my observations. As such, the analyses present in this photo essay are based off my own interpretations.
The boys of UCD soccer team arriving to practice
Team
When asked to define a team, often times the usual answer comes in the form of team sports – soccer, basketball, football and the likes. What many of us tend to overlook is the fact that individual sport is comprised of teams too. An example being competitive golfers – they are rarely alone; usually surrounding them is a team of caddies, managers, physiotherapists and psychologists. Much like team sports, the cohesiveness between an individual athlete and their primary/secondary care team is vital towards performance and success of said athlete. Therefore, it is crucial to understand that a "team" doesn't just comprise of athletes; it also comprises of those behind the scenes – the managerial staff.
Considering that the relationship web of an individual athlete is already so complex, throwing a team of athletes into the mixture would result in an even more complex relationship web. Such is the case for UCD's soccer team which comprises of:
Players
1st team manager
1st team coach
Goalkeeping coach
Strength and conditioning coaches
Director of soccer
Club doctor and physiotherapists
Program development officer
Media managers
Club council (President, Vice President, Treasurer, Secretary)
Because of the complexity and dynamic nature of the relationships, there is no "one size fits all" management as no two teams will ever share the same qualities. In addition to that, as a team's size increases, the strength of its cohesion is said to decrease (Carron, 2007). With 28 players on UCD's first team alone, quality leadership amongst the manager and coaching staff is absolutely necessary in improving and maintaining the team's cohesion so that they may perform consistently throughout the season.
UCD's Goalkeeping Coach, Gerrard Barron, having a one-on-one practice session with 1st team goalkeeper, Niall Corbet
Leadership in Fostering Team Cohesion
In literature, there are five features that offer a starting point for measuring a team's strengths and weaknesses – interaction, structure, team cohesion, goals and identity (Kramer & Moran, 2013). Team cohesion in particular is broken down into two components: task cohesion and social cohesion. Task cohesion looks at how well the team works together as a playing unit to achieve their objectives whereas social cohesion focuses on how well the team gets along in terms of developing and maintaining social relationships. The former tends to predict the success of the team while the latter is thought to be predicted by success (Carron, 2007).
UCD's recent success in the Europa League can be partly attributed to the team's high task cohesion. As an overall goal, both players and coaches strived towards advancing through each qualifying round. In the course of achieving their overall goals, UCD's first team manager, Collie O'Neill ensured that his players were clear on their roles and objectives going into each game – be it keeping a clean sheet, constantly pressuring their opponents with tight play or parking the bus when they were down to 10 men – not one player prioritized their own individual desire (if there was any to begin with) over the team's desire.
…I said to the players at half-time that if we lose and don't go through, don't let that be because one of us hasn't done our job or done what we were supposed to do.
-O'Neill on his half-time talk during the second leg of UCD's first qualifying round against Dudelange. The team advanced to the second qualifying round upon winning this match despite having only 10 men on the pitch
We still want to get through this. We are loving it. We don't want it to stop. We're not here for the sake of it. We're here to try  to win the game and we'll have a plan to try our best to win it.
-O'Neill's response when asked if advancing to the second qualifying round was merely a bonus for the semi-professional team
Research by Carron et al (2007) suggests that higher levels of training and instructional behavior, social support behavior and positive feedback from coaches are positively associated with higher levels of task cohesion. The coaching techniques used by Gerrard Barron, UCD's goalkeeping coach were reflective of the findings above. In comparison to the other coaches during practice, Gerard was more hands on with his demonstrations and instructional cues,  frequently voiced affirmation upon successful performances and communicated with the goalkeepers under him after practice. Despite the goalkeepers and players training separately during practice, both parties were able to come together during matches to put on a quality performance time and time again; indicating that the coaching methods employed had an effect on the players task cohesion.
From left to right: Collie O'Neill (1st Team Manager), Pat Devlin (Director of Soccer), Diarmuid McNally (Program Development Officer) and Gerrard Barron (1st Team Goalkeeping Coach) observing the boys as they practice their skills
Part of effective leadership is also knowing when to let go (Kramer & Moran, 2013). O'Neill and UCD's first team coach, Evan McMillan frequently took the backseat during practices and matches. In practice, they rarely intervene as their boys go through drills, set pieces and scrimmages; saving their thoughts for the end of each section unless an issue needing immediate attention arises. This shows their understanding of soccer as a sport with a continuous flow of activity; and that frequent interventions mid-play would deter from the boys' improvements. Additionally, this also taught the boys to be more conscious and aware of their bodily movements and surrounding environment; directing each other and pointing out mistakes and good plays. During matches, the duo keep to their seats and watch the game intently – once again allowing their players to run the show. Their actions demonstrate the amount of belief they have in their coaching methods; trusting that said methods empower their boys to be self-sufficient in playing and making decisions on the field according to the team's goals and values.
UCD's strength and conditioning coach, Eoin Clarke (middle), demonstrating a warm-up drill to the boys
Hierarchy
A brief conversation with Eoin Clarke, one of UCD's strength and conditioning coaches led to an interesting discovery on the hierarchical importance of positions embedded in this team. According to Clarke, first team manager, Collie O'Neill, holds 100% of the decision making power on the team. Essentially, whatever O'Neill says, goes.
On any given day, Collie can easily overwrite whatever conditioning drills I have planned for the lads if he deems it unnecessary or if there are other more important priorities to be taken care of.
-Clarke on O'Neill's decision making power
Based off the conversation, it seemed as though no one in the team had an issue with Collie's choice of autocratic leadership. They readily accepted his leadership style, labeling it as "that's just the way it is in soccer". This observation doesn't come as a surprise as most professional/semi-professional European soccer teams rely solely on the decisions of their managers. At this level of soccer, having too many people involved in the decision making process would only serve to complicate matters. In UCD's case, a democratic leadership might not be the best option due to player maturity (UCD's players are on the young side) and the high level of competition the team faces.
According to the Leadership Scale for Sports (LSS) developed by Chelladurai, autocratic behavior is characterized by independence in decision-making and stresses personal authority of the coach. Weiss & Friedrichs' (1986) findings suggested that coaches exhibiting an autocratic behavior style were associated with greater athlete satisfaction in the amount of sport-related work placed upon said athlete. Presumably, O'Neill's independence in decision making resulted in an efficiently run team which allowed the boys to accomplish more in a shorter amount of time. This is important as the boys, unlike most professional soccer teams, do not have the luxury of practicing every day. Therefore, they have to make the most out of the 2-3 days per week that they do have the opportunity to practice.
Despite having absolute decisional power over team affairs, O'Neill still has to deal with the hierarchy that exists between him and the club's council – a crucial relationship as the existence of this power differential places limits on the coaching staff's freedom and creativity to manage the team. Upon closer inspection, O'Neill's task of managing UCD's soccer team goes beyond developing an optimal environment for his players to perform in. Instead, it has O'Neill acting as a middleman trying to strike the right balance in pleasing those invested in the club – the council, team members and fans. As the council determines the fate of the coaching staff at the end of every season, more often than not, managers are pressured with the tough decision of implementing strategies deemed "appropriate" by the council or foregoing traditional methods in pursuit of discovering what works best for the team but risking their job in the process.
UCD chooses not to print their player's names on their jerseys
Shaping the Irish Sporting Culture
In comparison to other European countries, a distinct feature of the Irish sporting culture is their nameless jerseys. Regardless of sport and competitive level, all Irish jerseys do not include player's names. This feature is said to promote collectivism instead of individualism amongst the athletes in sport – a culture that might be the inspiration and foundation behind team cohesion and success. Collectivism is interpreted as behavior based on concern for other and group harmony as well as care for tradition and values (Jowett & Lavallee, 2007). These nameless jerseys give rise to the mentality of "you don't own the shirt, you have the honor of filling the shirt" – instilling feelings of pride in playing for the team and diminishing any individualistic desires of the athlete, keeping their egos in check. As far as the Individualism-Collectivism (I-C) framework goes, not much of this framework has been studied in the context of sport psychology, thus paving the way for future research opportunities
Another distinct feature of the Irish sporting culture is that many of the athletes, UCD's soccer team included, have day jobs or an educational commitment on top of being athletes. O'Neill for example, works as an IT consultant during the day whereas first team goalkeeper Niall Corbet is a senior majoring in food science. In fact, UCD's places so much emphasis on non-sporting endeavors that one of the criteria's used to select future players is "possessing the ability to study". Carrying on this holistic tradition is vital as Connaughton et al's (2010) research suggests that maintaining a balanced sporting and non-sporting life may aid in the development and maintenance of mental toughness in athletes.
In addition to that, it is normal for most top-level Irish athletes to not receive any form of compensation for their athletic endeavors; which goes to show that the commitment and sacrifices made towards their sport is purely driven by intrinsic motivation and passion. While UCD does offer some degree of compensation through the form of weekly wages ranging anywhere between €50- €250, for the time and effort spent on practice and matches, it is still safe to say that the boys are very much driven to persist in this sport by their own intrinsic motivations.
The unique features of the Irish sporting culture discussed above keeps the Irish athletes humble in the face of success and hungry in achieving greater heights.
References
Carron, A. V., Eys , M. A., Burke, S. M., Jowett, S., & Lavallee, D. (2007). Team cohesion: Nature, Correlates, and Development. Social psychology in sport, 91-101.
Connaughton, D., Hanton, S., & Jones, G. (2010). The Development and Maintenance of Mental Toughness in the World's Best Performers. Sport Psychologist, 24(2), 168-193.
Fitzmaurice, A. (2015, July 10). UCD's little wonder. Retrieved from http://www.uefa.com/uefaeuropaleague/news/newsid=2263993.html#ucds+little
Jowett, S. & Lavallee, D. (2007). Social Psychology in Sport. Champaign, IL: Human Kinetics
Kramer, J. & Moran, A. (2013). Pure Sport: Practical Sport Psychology. New York, NY: Routledge
The Irish Times. (2015, July 16). UCD not fazed by Slovan Bratislava. Retrieved from http://www.irishtimes.com/sport/soccer/national-league/ucd-not-fazed-by-slovan-bratislava-1.2286182
Weiss, M. & Friedrichs, W. (1986). The Influence of Leader Behaviors, Coach Attributes and Institutional Variables on Performance and Satisfaction of Collegiate Basketball Teams. Journal of Sport Psychology, 8, 332-346.